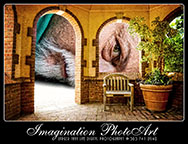 My life has always been about creativity, whether as a musician, a photographer, a painter, a digital artist, or an audio/video producer. During my business career, I shot thousands of photographs and videos for business that are still in use by both local and national corporations and viewed daily by millions of clients. Since retirement, my days have been filled with personal reflection and expression that doesn't have to fit into a corporate mold, although I believe much of my work would be equally perfect hanging in a board room or in your living room. Thank you for taking the time to look at my art. - Mike Braun
The art you see below is sorted by the most recently created and added to my various collections. To find something you like AND speed your search, click on the "Collections" tab drop down on the left below.
If you purchase directly from this site, you are purchasing my art through one of the fine art printers I use. This is a great site for an artist to display their work, but although it can be, it is not necessarily the least expensive source available. You will save money, if you send an email directly to me at Mike@ImaginationPhotoArt.com and tell me what you want. I'll reply with a quote for the best price from multiple sources based on the size and medium you want, as well as recommend a few options you may not have considered.
Imagination PhotoArt is offering beautiful, cloth facemasks for the low price of $13.50 - Click here.